Creating the Career Path of Your Dreams
Make A Living Doing What You Love: The Gateless Career Training Program
What Is the Gateless Gate Career Training Program?  This six-day, forty-hour summer training prepares you for a successful career leading retreats, facilitating transformational workshops, coaching one-on-one clients and/or making a living from your love of writing.  The next training will take place July 19th-24th, 2015 at a house on the Long Island Sound in Guilford, Connecticut.
At the 2014 Gateless training, eight women came together to move their writing, their careers and their lives into previously uncharted territory.  Gateless enables us to live stories we've only ever dreamed about.  What story do you want to tell?

How Did It Start? As an author, I experienced some early industry success, watching my books hit bestseller lists, win awards, get optioned for film and gain international acclaim, but my real life work began when other creatives approached me to reach their own visions of success. As a book shaman, I shared my knowledge of creative brain science, eastern spiritual thought, the power of creative tools, how to hold the keys to industry networks and knowledge, and the hidden potency in bodywork.  When these previously unpublished writers began landing top agents, signing six-figure book deals and becoming award-winning authors, I understood the power of this method.  We began to call it Gateless, a term that encompasses the entirety of the method and exemplifies the flying feeling of living a life you crave.  People who experience Gateless not only luxuriate in the sweet high of career success, but more importantly, their lives change. They became more centered, empowered and creative. They fall in love again with themselves, with their spouses, with their children. Blissed out and ecstatic, they are richer, freer.  Since those first years, the demand for Gateless has grown, and writers, coaches, teachers, bodyworkers, therapists and entrepreneurs began asking for a training program so they could learn and use the incredible alchemy of this method and help their students and clients experience extraordinary success.  (if you are interested in the  training, email me: suzanne@suzannekingsbury.net).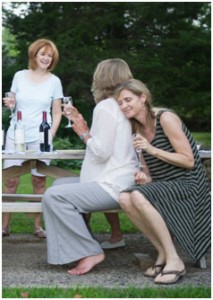 "What I loved best about the Gateless training was the permission to soar.  When I left Gateless I felt rejuvenated, solid, lighter.  Now I am clearer and excited about building my writing life, I love the idea of Gateless developing a presence in the world beyond writing– government, economics, sports, relationships– unconditional positive encouragement and empowerment coupled with connection to the greater good."  ~Dulcie Whitman, therapist, writer, Maine.
Who Is This Training For?  The training is for you if you are a writer, healer, coach, therapist, artist, editor, educator, yoga teacher, corporate consultant, entrepreneur or anyone who wants to make a living writing, mentoring others and reaching unprecedented creative zeniths. "Gateless allows the very best in everyone to come up to the surface and take a turn in the sunshine," critically-acclaimed performance artist and certified Gateless teacher Minton Sparks has said.  "You don't have to become someone else, Gateless is a process of loving what you already are and then stretching from there."  Graduates find themselves entering the spotlight with their own writing, working one-on-one with other writers, holding retreats, facilitating "salons," and using the Gateless method with their clients, employees, students and in their personal lives.  This training is for anyone who wants to integrate their writing into their career path and make a lasting impact on the lives of others.  These six days will buoy and carry you to the highest vision of yourself as a writer, a teacher, coach and guide. (if you are interested in the training, email me: suzanne@suzannekingsbury.net).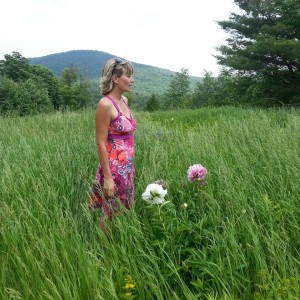 "During the time I spent in Gateless, my body was comforted, my mind was inspired by encouragement, and my soul was blown away by the feedback.  As a result of the Gateless process, I feel absolutely committed to put my work into the world. I just signed a contract for my first book deal, am offering a popular online course, working one-on-one with a growing clientelle, and will be starting my first series of retreats at my new house this fall."  ~Nicole Birkholzer, founder of MindfulConnections.com,  Massachusetts.
What Will I Be Doing at the Trainings?  For six days, you will be staying at a beach house on the Connecticut sound.  Along with an intimate group of other trainees, you will experience intensive training in the Gateless method each day, including individualized career coaching, the magic of writing salons and personalized bodywork.  We will identify your expertise and move you forward to both discover and attain your highest goals. There will also be time to write, read, explore the shoreline and share ideas, hopes and visions with new friends. See complete day-to-day schedule below (if you are interested in the training, send a note: suzanne@suzannekingsbury.net).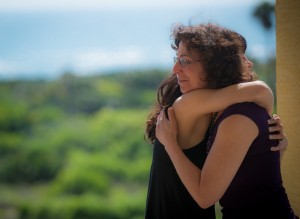 "The brilliance of the Gateless methodology is barring the critical voice. This makes sense to me as a practitioner in the health field. All the things we write about come from the tender spots in our hearts, we all have myriad memory and story and heartbreak. As a result of Gateless, I have harnessed the power of what I have to offer and have begun to fly in a way I never could have imagined. I recently founded the first Shiatsu School in Vermont, and I use Gateless in everything I do."  ~Margie Pivar is the author of Fourth Uncle in the Mountain, and the founder of The Shiatsu School of Vermont.
Who Will My Clients and Students Be?  Students drawn to teachers who use this method are open, inspiring and committed to their own growth.  Salons, retreats and one-on-ones that include the Gateless method have attracted doctors, massage therapists, teachers, horse-whisperers, CEOs, world tennis champions, Jungian psychologists and many others who have become loyal, lifelong friends. One of the best things about getting certified in Gateless is that you learn to step into your own creative power, and your students become your tribe. I've never had to consider paid marketing or advertising because my clients and students network for me, shouting about their experiences from the rooftops (if you are interested in the training, send a note: suzanne@suzannekingsbury.net).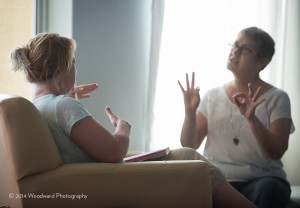 "When I came into Gateless I felt stalled in my career and my life. When I left Gateless I felt hope that I can really do something that will allow me to earn money and help others. I loved the bodywork, the small intimate group, being able to practice leading a salon, the one-on-ones.  Gateless can benefit absolutely anyone. It's the way we should all be raised."  ~Sylvie Kurtz, critically-acclaimed author, founder of the Care and Feeding of an Author Program.
How Will My Life Change?  Before I began using the Gateless method, I had achieved international success and was working and teaching nationwide, yet I tended to feel unsure about how to bring my deepest gifts to the world.  After I founded Gateless, my career took off.  My purpose was clear.  No matter how many hours I worked, I felt more energized.  Success was effortless.  During this week, as you deep dive into the Gateless method and experience your singular power as a writer and a leader, will have the opportunity to experience that same flying feeling about your own career.  Alumni of this program have gone on to lead international retreats in Spain and Italy, have developed a roster of private clients, are teaching community classes and have found the depth in their own creative journey including being spotlighted by major media outlets and bringing their own stories to the point of publication (if you are interested in becoming a teacher, send a note: suzanne@suzannekingsbury.net).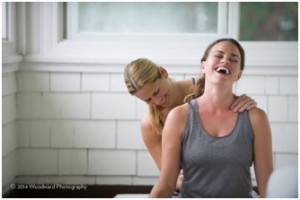 "I had no idea I'd gain such an incredible sisterhood. I had no idea I'd fall so far in love with these beautiful women. I'm no longer alone but in the company of great women warriors, who are rooting me on, who I can rely on if and when I need to. There's a clarity now, a centeredness and solid direction, a feeling of YES and support."
  ~
Regina Tingle, creativity, writing and life coach.
What Is Gateless?
The Gateless Gate started as a collection of forty-eight Chan koans by the Chinese Zen master Wumen Hui-k'ai in the 13th century.  Koans allow us to encounter the limitless mind.  At Bennington College, I explored the connection between this "Zen mind" and the creative process while working toward my masters in creative writing and the literary arts.  This thesis, combined with leading-edge creative brain science and my experience as a Fulbright scholar in Southeast Asia, led to founding the Gateless method of teaching, coaching and editing.  One of the reasons the method is so powerful is that it actually shifts your neurotransmitters and opens new territory in the mind.  Students in Gateless are moved to a degree of mastery not yet explored in academia or elsewhere (if you are interested in becoming a teacher, email me: suzanne@suzannekingsbury.net).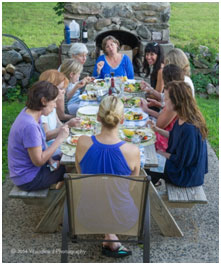 "When I came to Gateless, I was exhausted and confused about my work, but I left Gateless filled up with love. I felt like a mover and a shaker again,  that first day back, I wrote a blog post, a client letter, a haiku, I made art and worked on my novel. And now my husband is on board, and we are going to offer our first series of retreats next year."  ~Jodi Paloni, visual artist, Gestalt coach and award-winning writer, Maine.
What Does Gateless Look Like:  The slide show below, done by Vermont photographer Jeff Woodward, shows the remarkable lightness that enters our midst when we are experiencing the Gateless method.  The footage from this retreat took place on the Atlantic Coast outside of St. Augustine, Florida.  We were lucky to have Jeff there to document the magic of this process (if you are interested in becoming a teacher, send a note: suzanne@suzannekingsbury.net).
Aerialists from Jeff Woodward on Vimeo.
To Apply: email me HERE to find out about specific dates in July, scholarships, or to suss out whether Gateless is for you.
Schedule:
Sunday Evening, July 19th
4:00pm  Arrive, settle in, have a cool drink, take a quick trip to the beach etc…
6:00-7:15pm  Catered meal at the house for intimate meet and greet.
7:30-9pm  Your first Gateless salon.


Monday, Tuesday, Wednesday, Thursday
(for specifics on what to expect see below "what you'll experience day-to-day") 
8:00am  Coffee and breakfast.

8:45-12:00pm   Training in the Gateless method.
12:15-1:30pm  Lunch and group pow-wow.
1:45-3:45pm   Training continued.

4:00-7:30pm   During the week, you will receive a private one-on-one career coaching session that includes identifying what you really want, building your career, what your niche looks like, branding and website assistance and identifying ways to leverage Gateless in your area of expertise.  Another afternoon will be spent receiving a sweet, blow-you-away Thai massage and spiritual mentoring session with bodyworker and yoga teacher Karen Kenney (this is optional but included in the training if you so choose).  The other two afternoons you are free to hunt for seashells, shop in the boutiques, take a nap or otherwise laze the late afternoon away with a book.  Din din as you choose…
7:30pm  Back at the house for a Gateless salon-style workshop except for Tuesday night which is free.
Friday Morning
8:45am  Breakfast as usual.
9:45-11:45am  Group meet, Gateless diplomas, bye bye ritual.  We'll be so sad to leave but will support each other forever and can't WAIT to see where Gateless leads you.
12:00pm  Our last group lunch.

You should be done by 1:30 or 2:00pm so you can make travel plans accordingly and know we love you!
What You Will Experience Day-to-Day
Below is what you will experience day-to-day in the trainings.  Unless otherwise specified, all events below will take place in the house's rambling rooms.  Writing is our main medium of instruction and within the training, we learn the genius inherent in letting the work fly onto the page.  While I will be facilitating, the alchemy that occurs when you write will be your main teacher during the week.

Monday: You, You and More You!
You as a Gateless Guru: why you are here; how you shine; what drew you to Gateless; your blooming career; fasten your seatbelt, your life is about to change… 
Your Strengths: how to recognize them and how to know if you are teaching from them; why this week will bring out the talent you never knew you had; making way for Gateless ecstasy and bliss in your life.
Your Future: how this method helps you reach your career goals, visions and aspirations; why you are about to feel unconditionally adored and how to handle it; the safety net of Gateless and why you will never be alone again.
Tuesday:  The Path to Greatness
The Remarkable Miracle of this Method: stats, studies and personal testimonials; why this is not just about writing; how to use it in your personal life and your work; how it has become a shape-shifter and domain changer. 
The Cornerstone of Gateless: an introduction to the guidelines, creating the container; how your students and clients can help you hold the space; what to do if the container leaks; confidentiality and the permission to laugh (and weep).
Using Creative Brain Science to Move Beyond the Mind: one of your most important tools to creating greatness in the classroom and with personal clients; how to prepare yourself to "think" without the mind; surrendering to the crazy beauty of this method, and why it can scare the hell out of you.
Wednesday: Build It and They Will Come
(Wednesday afternoon is free)
Your Student and Client Gurus: leaning your students and clients toward innate talent and genius; how to find their strengths and meet their work on its own terms; creating a crowd of cheerleaders and collaborators.
How to Find Fantastic Students and Make a Living Doing What You Really Love: online and community classes; private homes; veterans groups; prisons; secondary schools; chronic care facilities and yoga studios.

The Essentials of a Workshop or Salon: where to hold it, how to price it, what to offer, where to find students, when to say yes and how to say no.
The Essentials of Running a Retreat: creating the destination experience, ditto above and a little bit more including finding collaborators and why they are important.
Thursday: To Be Paid, Seen, Supported and Some Weird Science
Making a Fantastic Living: intuitive pricing; to barter or not to barter; how to go bigger; when going smaller pays off; grants and awards; what you want financially and how to get here.
Social Media: how to use it; how it can help you and/or harm you; authenticity (the most mis-used word on the web); web shortcuts and edifying to decrease internet stress; the best way to decorate your "storefront."
Competition: how to handle the fear of it and why there's really no such thing.
The Hecklers: when students become high maintenance;  handling rule breakers; naysaying and the very pretty noose.
Who Do You Want Around You: creating the ideal student.
More Park Sausages Mom, Please!: avoiding burn-out like a pro.
Friday: Because We Love You
Finding Support: keeping up your creative journey; personal meditation for your personality type; retiring in style; why we love you; what happens when you go home; satellite Gateless; your certification; getting on the Gateless network.
Cost: Gateless trainings are $5500 and include everything but the vehicle to get you here.  Very generous scholarship aid is made possible by benefactors who have been before you. Please come to the Teacher Training Awards and Fellowships page to find out how to apply (it's easy!).
The cancellation policy for scholars is HERE.
Application and Information: email me HERE to find out about specific dates, scholarships, to request an interview or to suss out whether the Gateless Certification Program is for you.
To read more about Gateless, visit the Gateless info page here.