With Labor Day behind us, and the kids back at school, I like to drag summer out by thinking of my peak experience.  And of course, for the summer of 2014, it was the week I ran away and fell in love.
The third week in July, eight talented, sassy, beautiful, creative women (and Jeff Woodward, our extraordinary photographer!) said goodbye to children, husbands, houses and plans and escaped to a cottage by the sea, where we made mad passionate love to the page. And there was a secret sauce to this group, we didn't just gather for ourselves, we actually gathered for you and your creative process…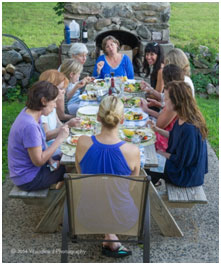 We think there are all these Gates keeping us locked out from the speaking gig, the performance stage, the sold out workshops and the big five publishers – but it's bullshit because there's another way, and its Gateless. Gateless is so life-changing, so revolutionary.
–Karen Kenney, spiritual mentor, memoirist and founder of Quest Yoga.
We were life coaches and therapists, visual artists, English professors, study abroad facilitators, and corporate consultants and yet in that sprawling house by the sound, among the wild roses and honeysuckle, we were there to serve one thing: our mind-blowing passion for the creative process, and how it can heal, change lives and transform our world.
We laughed, feasted, swam, did yoga under the sycamores and got massaged by Karen Kenney's heart-centered, healing hands. And we did what we always do on Gateless Retreats: we wrote, page after page. And read aloud.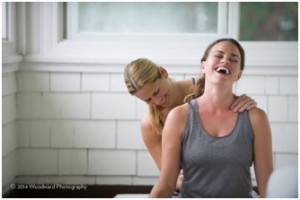 "I signed up for Gateless because I needed a new direction, I was an empty nester, and I wanted something to supplement my income, now I feel stronger, more sure of myself, I want to shout out to everyone about my new career." Kathleen Murray Moran, award-winning writer and editor.
We arrived home feeling and looking different. We'd pioneered the unknown, mapped new artistic territory and come back with our true career paths scripted into our cells.
Why? What happens when we run away like this? Why are people who create in the Gateless method generating work that transcends marks on the page and becomes its own miraculous captivating world?
Because Gateless isn't just about writing, it's about tending to the creative fire. We dive into those places that scare the hell out of most of us: criticism, money, competition, and, of course, rejection. In my years as an author and book shaman, it has become clear that the way to create domain-changing work is to answer doubt by writing into it and then mirroring for the writer what is strong in that writing. "Doubt," Flaubert says in Memoirs of a Madman, leads to madness." So we make manifest the myriad ways doubt flings its weapons in our direction and respond with feedback about what sings.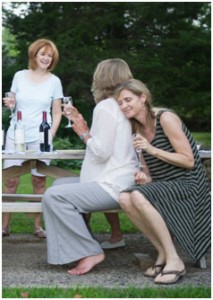 I love Gateless because it is about finding what is already there but maybe covered up with fear. You don't have to become someone else, Gateless is a process of loving what you already are and then stretching from there.
–Minton Sparks, performance artist, founder of the Writing and Performance Institute.
Of course, I want this for you, to see you laugh, feast, swim, write, read aloud and fall in love. I know it can be frightening to drop everything except your desire to create and run away. And I also know that when we are working alone, it can feel like the world out there is wild, the hounds are howling to a haunted moon, you might fear you will never see your dream come true, you're the one the publishing club forgot to include, the holy grail is just out of reach.
You are not alone.
This was a unique breed of wise women. We didn't just gather to write, we did it to make a commitment to other creatives like you. Dulcie, Jodi, Karen, Kate, Kathleen, Minton, Regina, and Sylvie became the first to take the Gateless Teacher Training program and become certified in the Gateless method so they can teach and coach others can reach their personal zeniths.
It occurred to me as they flew home to spread their talent across the country from Dallas to Nashville, Manhattan to Maine, that this wild beautiful energy that is Gateless cannot be contained. If you are reading these words, you are included in our community of creatives who have your back and want you to succeed.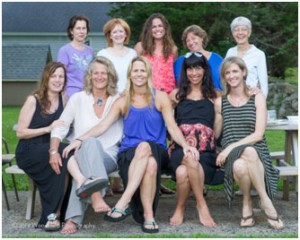 The hardest part was the leave-taking. Bidding goodbye to the unique magic of our particular bodies and star stuff being all in the same house for those days; we'll never recreate it (but we will always carry it).
–Kate Baldwin, educator and founder of the Newburyport Salon Series for Kids and Grown-ups.
So, next time you are trying to get up the courage to sit down to your dream, remember: you have a powerful pantheon behind you. We are cheering you on, encouraging you to bring out your unique genius. We are giving you permission to make mad passionate fierce beautiful love to your work, no matter the consequences, no matter the doubt.
To learn more about a career teaching in the Gateless method: http://suzannekingsbury.net/teach-writing/
If you are feeling the call to run away, join me and bestselling author and singer/songwriter Marshall Chapman for a sweet Gateless writing weekend at the all-inclusive Gray Bear Holistic Retreat Center, outside of Nashville, TN, October 17-19th: saunas, watsu pools, soaring yoga temples, roaring fires and the open page: yes! I want to run away and write…
And in the comments below tell me your biggest challenge when it comes to completing your biggest dream, what do you want? What might be getting in the way?  Just sharing it can make it seem more manageable, and I will always answer you with strong encouragement and a big dose of Gateless love…